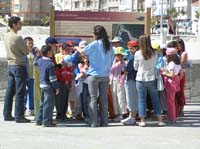 These tours are aimed at people of all ages, whether they are here by chance, or more established groups. They are given by the Fisheries Association's tour guides who keep the visitors informed throughout the tour of all the different aspects in the life of a fisherman. This audible information is supported by illustrations on posters present throughout the port.
Throughout the tour, the visitor will get to know every corner of the port, step by step, as well as the life of the fishermen of Laxe, from their work to their traditions and customs , so that their trade can be justly valued.
With our Project we want to make our visitors feel like fishermen for a day. There's no better way to initiate them into the world of the sea than to spend a day with the people of Laxe.
To
arrange
a group visit through the port, contact the Fishing Association on (+34) 981 728 100, or by email info@mardelaxe.com or under the BOOKING section that you will find here.