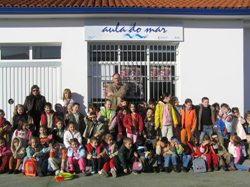 This is a place for cultural and social gatherings for all those people who enjoy sea life. Its fundamental objective is the continuous training of all those men and women that work in the fishing industry of Laxe. All types of courses, conferences and debates run throughout the year relating to the fishing sector.
As well as this, aula del mar is a place where people come to discover a little bit more about the life of our fishermen. They will discover a world full of tales related through the experiences of the older fishermen, who for many years have taught the generations that today work in the fishing sector in Laxe. In aula del mar these teachings will remain alive so they can be transmitted to future generations.
Another important role for aula del mar is to provide a meeting point for the different fishing communities, where knowledge and experiences can be exchanged with the aim of improving our fishermen's day to day working conditions. Striving to make better use of marine resources through care and respect for these.